News flash: The Book of Why is now
#86 among all hardcover books on Amazon
#18 among all science and math books on Amazon
#2 among all hardcover science and math books on Amazon (behind only The Order of Time by Carlo Rovelli)!!!!
Dreams don't usually come true at 9:47 on a Saturday night. But that's when one of mine came true. That was when I checked the Amazon page for The Book of Why (co-authored by your truly along with Judea Pearl) and saw that we had cracked the top 100! Here's a little bit of photographic documentation: the Amazon top-100 list in hardcover books, as of 9:47 pm Pacific time (12:47 am Eastern time).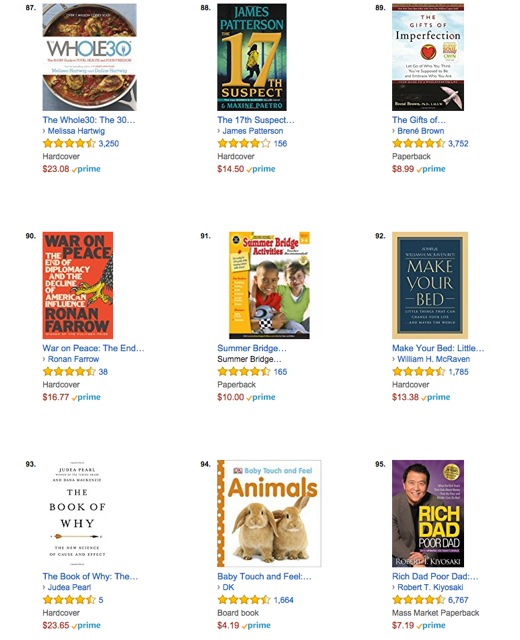 There's our book in the #93 position, right below Make Your Bed (an inspirational book by William McRaven, #92) and right above Baby Touch and Feel Animals (#94). Any time a hard science book can outsell a book with cute baby rabbits on the cover, that's pretty amazing!
The Book of Why has even gone up a little bit more overnight; when I checked the ranking just now, it was up to #86. We have also cracked the top 20 among all science and math books, and we have the #2 hardcover science and math book in America, after The Order of Time by Carlo Rovelli. Rovelli's book is only two positions above us on the science & math list. We're coming for you, Carlo!
Before I say how this happened, let me just say that my mind is completely, totally, 100 percent boggled. To have a success of this magnitude is more like a fantasy than reality. It ranks right up there with winning the lottery, or winning the U.S. chess championship (tip of the hat to you, Sam Shankland!), or with Wile E. Coyote finally catching the Roadrunner. You dream about it, but stuff like this doesn't really happen.
How it happened was, I think, a perfect storm. Two articles about our book in major publications both came out yesterday. One of them, an op-ed in the Wall Street Journal, we wrote ourselves. It was actually a month-long struggle to hammer this 800-word piece into shape, but we did it. Interestingly, the op-ed was originally scheduled to run on April 28, but the WSJ kept pushing it back because the editors didn't think it was ready yet. I actually think that the timing could not have been better.
The other article actually came out earlier this week in Quanta, as I think I mentioned before, but yesterday it was picked up and published by a much bigger-name publication, The Atlantic. I have to say that Judea is a little bit unhappy with the headline of this one, because he is not really a critic of artificial intelligence; he is very much part of the AI research community. But he is saying that AI currently has a blind spot, which can be fixed. Anyway, aside from the headline, the article in The Atlantic is really excellently written, and I strongly recommend it.
Our book was off to a strong start before this, but was still a long way from top-100 and top-20 territory until these articles came out. My only hope is that it will keep selling this strongly even after Judea's name drops out of the current news cycle. The next thing I will start waiting for is reviews in major publications, which have not happened yet, and which may decide whether our book has long-term staying power.
(Cross-posted from my chess blog.)