My Chess Biography
As you might be able to guess from the picture, my number one interest besides writing and science is chess. My father taught me how to play chess around age seven. I graduated to tournament chess during the "Fischer boom" of 1971 and 1972, a unique era in American chess history when the membership of the United States Chess Federation (USCF) doubled in one year.
Most of the people who joined the USCF in those crazy days dropped out within a year or two. But a few of us kept going. I'm proud to say that I have been a continuous member of the USCF since 1972.
There have been so many highlights of my chess career that I feel truly blessed. While I lived in North Carolina, I won the state championship twice, in 1985 and 1987. The Triangle area had such a great chess scene back then, and I learned a lot from playing with people like the late great Bernie Schmidt, the late Bill Mason, Robin Cunningham, Matt Noble, Greg Samsa, Alan Patrick, Steve Tarin, Michael Feinstein, and many others.
After North Carolina I moved to Ohio and reached the peak USCF rating of my career, 2257. I also earned my first (and highest) international or FIDE rating, 2200. I never really came close to winning a state championship — well, I was in an eight-way tie for second one year — but I did win the Roosevelt Open in Dayton twice, in 1989 and 1993. The latter was in fact the last time I won an open USCF-rated tournament. It's been a long dry spell!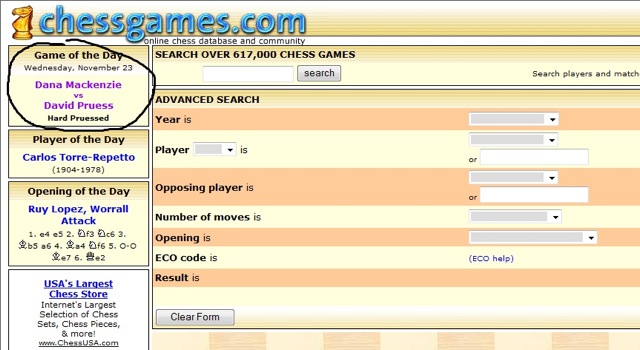 In 1996 I moved to California. Beyond a doubt, the California years have been the most rewarding time of my chess career. Here are some of my favorite moments:
Winning a game against International Master David Pruess (one of the top 100 players in the country) with a queen sacrifice on move six that had never been played before in an over-the-board tournament game. The game became sufficiently well-known to be chosen Game of the Day at chessgames.com. (Usually this is an accolade given only to famous players.)
Playing on a five-man team that won the U.S. Amateur Team West tournament in 2012. This was extra-special because the team was captained by my old North Carolina buddy, Robin Cunningham, who was at that point living in California. We made it to the national championship but lost to the East champions. Still, finishing second out of 400 teams is pretty good!
Recording lectures for ChessLecture. This actually grew out of favorite moment #1, because Grandmaster Jesse Kraai watched my game against Pruess and was so impressed by it that he invited me to talk about it on ChessLecture. That lecture did so well that I stuck around and recorded a hundred more videos! It was the only time in my life that I earned a regular income (albeit a very, very small one) from chess.
Writing my chess blog, dana blogs chess. I've been doing that long enough that it's gotten a little bit of notoriety, and I've lost count of how many times people have stopped me during a tournament and said, "I like your blog!"
Earning the title of Life Master in 2009. Of course. The greatest honor of my chess career.
Getting my rating back over 2200, after nineteen years and ten months of being below 2200. This accomplishment will make absolutely no sense to anyone who doesn't play chess, but every chess player will understand. No matter what titles you win, whether it's national master or state champion or favorite chess blogger, most chess players care only about one thing: your rating. If you're 2200 you're a master, if you're 2199 you are not (in their eyes, even if you have a certificate back home that says otherwise). It's very rare for players in their fifties to improve their ratings, but I managed to beat Father Time and achieve a rating of 2203 at age fifty-six.
Running a chess club for kids at the Aptos Public LIbrary for more than twenty years. As you get older and realize you aren't ever going to be world champion or U.S. champion or champion of much of anything, other things become important. One of them is passing along the tradition to the next generation. If you're in Santa Cruz County, and you're 18 or under, come by the library any Tuesday at 3:30 and I'll set you up with a game!